Video walk through of the brand new Tri Blend Brush Markers by Spectrum Noir from Crafter's Companion.
Disclosure: Some of the links are affiliate links. This means that at no additional cost to you, I may earn a commission if you click through and purchase the product.
If you are ready to take a step into colouring with Alcohol Markers, you have come to the right place.
If you have been worried that you won't be able to blend very well or achieve professional results you have come to the right place.
Get results you want and deserve from this Spectrum Noir Alcohol Marker Collection.
I was honestly really sceptical about the Tri Blend colouring system from Spectrum Noir. Sure, the demonstrations looked awesome but how will they really feel to hold and colour with?
There are many cheaper brands out there and many more expensive too! And, actually for 72 colours the price is pretty amazing.
72 colours your say? Yes! They're Tri Blends so each pen has THREE shades of the colour.
I promised you a video!
And I promised you a FREE colour chart!
This is the original from the video, hence the kind of hurried look! But I wanted to make sure you saw the actual one.
Shopping List
Spectrum Noir TriBlend Brush Complete Collection with Accompanying Stamps
£89.97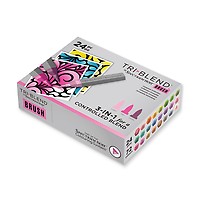 Spectrum Noir TriBlend Brush Collection 24pc
Neenah Solar White Card – 16 Sheets
Thanks for stopping by!
Stay safe.
Love,
Esther XX
Spectrum Noir Tri-Blend Marker review and free colour chart